Mattya(powdered green tea) and Maiko's dance

Maiko House

You drink powder green tea(Mattya) and watch the dance of the maiko more ¥8000 Yen

For that you can get familiar memory with Japanese traditional Maiko dance and to the japan garden
About Maiko
Maiko-san makes her hairstyle only with her own hair.
To keep the hairstyle, Maiko use Hakomakura when she goes to bed.
Hakomakura is a pillow supported by a wooden frame.
Maiko has been practicing traditional dancing, playing the Shamisen, Tea ceremony every day.
This Kimono is made from real silk. Obi Domeor sash clip is jewelry.
Then, please have a look at traditional Japanese arts.
Please give a big applause first and last.
When they are performing, please do not talk and appreciate silently.
January 16at ~Everday

 show time
The first   1:00~1:45
The second  2:00~2:45
The third   3:00~3:45
Payment
please coll us for make a resarvation and pay to our bank account bellow.
When ther less than 10 customars, we would cansel the event.
Access
3 min walk from Kodaizi temple. In a traditional way Isibe-kouzi.

Introduction
Du-ran is a club that lies at the heart of Kyoto,
along the famous stone-paved alley, Ishibe-koji.
Indulge in the memories of your past,
while enjoying the scenery of a Kyoto garden
reflecting season changes in a glass.
So come, and walk around Ishibe-koji,
a tranquil approach to Du-ran.
Prominent magazines such as "President" "Amakara-techo"(a gourmet guide)and
a popular TV show here in Japan had given us praises as one of the stylish and
reliable clubs in Kyoto.
Visitors from abroad are more than welcome
and enjoy our services from our japanese hostess who can speak english.
Charges
For only ¥11,000 -per person, avail two hours time with free drinks
served with an appetizer, water & ice.
Bottle-Keeping is also availale.
Service Hours
PM 8:00 ~ AM 1:00
Regular Day Off
Sunday & Public Holiday
Map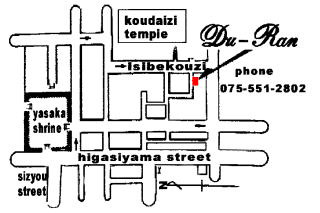 Address
Ishibe-koji Nishi Koudaijimichi Shimogawara Higashiyama Ku
Kyoto, Japan 〒605-0825
Telephone (075) 551-2802
E-mail:du-ran@smile.odn.ne.jp